Read the new issue: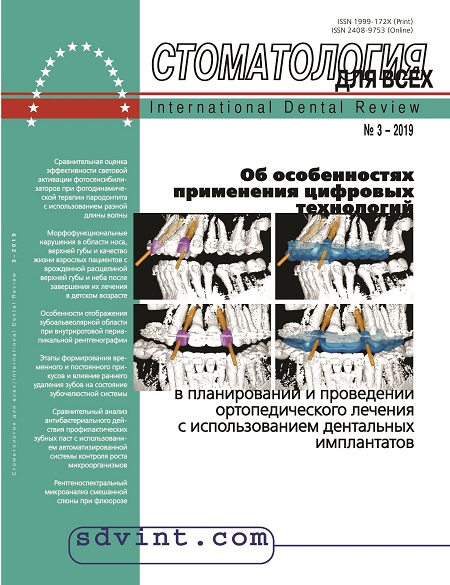 Comparative evaluation of the effectiveness of light activation of photosensitizers in photodynamic therapy of periodontitis using different wavelengths.There is a significant increase in the duration of remission of the disease, improvement of microcirculatory blood circulation in periodontal tissues and a small microbial contamination of periodontal pockets of patients treated with photodynamic therapy in the long term compared with groups of patients treated with only antiseptic and antibacterial drugs.
Structural and functional changes in the nasal and upper lip zone of adult patients with congenital cleft of the upper lip and palate and their quality of life after the treatment in an early age. Part 2.
Features of the displaying of the dentoalveolar region with intraoral periapical radiography.
Stages of the formation of temporary and permanent occlusion and the impact of early tooth extraction on the dentition state. Literature review.
Comparative analysis of the antibacterial effect of preventive toothpastes with use of automated microorganism growth control system.
X-ray microanalysis of mixed saliva with fluorosis.


Contents 3 (88) 2019
POSSIBILITY OF DENTISTRY TODAY
Conservative dentistry
4 Comparative evaluation of the effectiveness of light activation of photosensitizers in photodynamic therapy of periodontitis using different wavelengths. Samusenkov V.O., Tsarev V.N., Podporin M.S. More
Maxillofacial surgery
10 Structural and functional changes in the nasal and upper lip zone of adult patients with congenital cleft of the upper lip and palate and their quality of life after the treatment in an early age. Part 2. Kovalenko K.Yu., Semyonov M.G. More
X-ray dentistry
16 Features of the displaying of the dentoalveolar region with intraoral periapical radiography. Arzhantsev A.P. More
Pediadontia
22 Stages of the formation of temporary and permanent occlusion and the impact of early tooth extraction on the dentition state. Literature review. Murachueva G.A., Rasulov I.M., Gusenov S.G. More
Microbiology and ecology of the oral cavity
26 Comparative analysis of the antibacterial effect of preventive toothpastes with use of automated microorganism growth control system. Podporin M.S., Terentev K.V., Trefilova Y.A., Tsarev V.N. More
Periodontics
32 Questionnaire validation for the evaluation of patients satisfaction with chronic generalized periodontitis physiotherapeutic treatment. Lyubomirsky G.B., RedinovaT.L. More
Epidemiology
38 X-ray microanalysis of mixed saliva with fluorosis. Musiev A.A., Volkov A.G., Dikopova N.Zh., Makarenko N.V., Budina T.V., Ruchkin D.N. More
Dental implantology
42 On the features of the use of digital technologies in the planning and implementation of orthopedic treatment using dental implants. Kostin K.A., Kozhevin M.V., Erohin M.A,, Ponomarev O.Yu. More
Economics and organization in dentistry
48 Development of information and communication interaction as an element of corporate culture that increases the attractiveness of a medical institution for patients of older age groups. Stepanova Yu.S., Morozova Ya.V., Kopytov A.A., Asadov A.R. More
EDUCATION
52 The "Brainstorming" method in teaching the "Prevention and public dental health" discipline at a medical school exemplified by development of "dental health" lessons for children with sensory deprivation of vision. Surdo E.S., Galonsky V.G., Tarasova N.V., Gradoboev A.V. More
EVENTS
60 Borovskiy Evgeniy Vlasovich
61 Opening of the 3M dental training center in Moscow