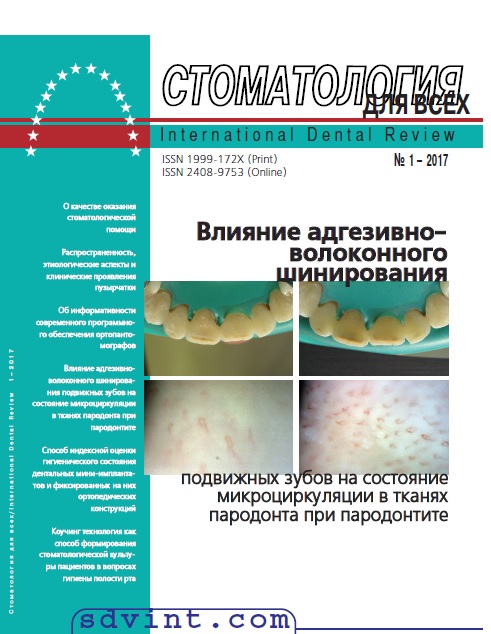 Download №1 (78) 2017 abstracts PDF


Contents 1 (78) 2017
---
POSSIBILITY OF DENTISTRY TODAY
---
Economics and organization in dentistry
---
6 On the quality of dental care. Leontyev V.K., Konarev A.V.
---
Prosthetic dentistry
---
12 The study of dental materials based on zirconium dioxide during manufacturing of orthopedic structures. Pervov Yu.Yu., Batoev A.A., Karpenko А.А., Karabtcev А.А., Sultanov A.A.
---
Gerontostomatology
---
17 Preventive dental care programs for older patients. Kuznetsov S.V.
---
Conservative dentistry
---
24 Prevalence, etiologic aspects and clinical manifestations of pemphigus vulgaris. Bulgakova A.I., Hismatullina Z.R., Hamzina G.R.
---
X-ray dentistry
30 Modern orthopantomograph software information capacity. Arzhantsev A.P.
---
Periodontics
---
36 Influence of adhesive fiber tissue of mobile teeth on microcirculation status in parodont tissues with parodontite. Abaev Z.M., Zorina O.A., Severina L.A.
---
Dental implantology
---
42 The method of assessment of the hygienic state index in dental mini-implants and orthopedic structures fixed on them. Kiparisova D.G., Kiparisov Y.S., Nurieva N.S.
---
Oral hygiene
---
46 Coaching technology as a way of forming a patient's good oral care habits. Leontyeva E.Yu., Bykovskaya T.Yu., Tlepzerischev R.A., Kireev V.V.
---
Aesthetic stomatology
---
52 Lumineers — a new method of treatment of discolourness. Fleicher G.M.
---
Psychological aspects in stomatology
---
54 The impact of dentition defects on the psychological health and quality of life of patients with diabetes mellitus. Shevkunova N.A.
---
EVENTS
---
58 The Dentists of the Capital рublic organization
60 New Association of the Parodontists is created
61 Started the program "Children's smiles in Russia"
62 "Club 32" visiting the Club "Legends of hockey"
64 We invite to the exhibition "Stomatology St. Petersburg"
---