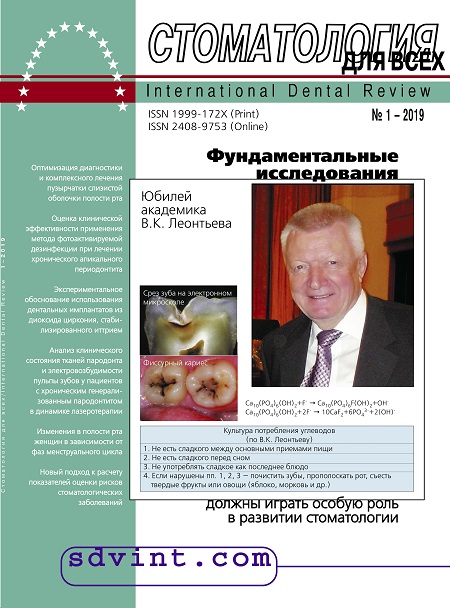 Download №1 (86) 2019 abstracts PDF


Contents 1 (86) 2019
EVENTS
4 Fundamental research should play a special role in the development of dentistry
A.V. Konarev's interview with academician V.K. Leontiev
POSSIBILITY OF DENTISTRY TODAY
Conservative dentistry
10 Oral pemphigus: optimization of diagnosis and complex treatment. Bulgakhova A.I., Hismatullina Z.R., Hamzina G.R.
>
14 Clinical effectiveness of the photoactivated disinfection in the treatment of chronic apical periodontitis (long-term results). Maximovskaya L.N., Lopanov N.V.
Dental implantology
18 Experimental justifi-cation for the use of yttria stabilized zirconia dental im-plants dioxide with. Olesova V.N., Zaslavsky S.А., Ivanov A.S., Khafizov R.G.,Perelmuter M.N., Zaslavsky R.S.
Methods of functional diagnostics in stomatology
24 Periodontal tissue clinical state and electric pulp response in patients with chronic generalized periodontitis: a follow-up analysis during laser therapy. Lyubomirsky G.B.
Psychological aspects in stomatology
32 Influence of personal features of the dentist on the construction of the relationship between the doctor and the patient in the orthopedic treatment of patients with diabetes. Shevkunova N.А., Itskov A.G.
Microbiology and ecology of the oral cavity
36 Menstrual cycle phase-related oral cavity changes in women. Fleicher G.M.
Oral hygiene
42 Efficiency of Emmi-Dent application in patients with the tensic position of the teeth complicated by chronic periodontitis. Zorina O.A., Starikova N.V., Berkutova I.S., Nechaev A.A., Saltovec M.V.
48 Effectiveness and implementation of dental hygiene training program for students with vision impairment. Tarasova N.V., Surdo E.S., Aliamovsky V.V., Galonsky V.G. Methods of statistical analysis in dentistry
56 New approach to the calculation of dental disease risk indicators. Kotel'nikov V.P.
Surgical dentistry
60 The efficacy of silver lipidocolloid dressings with autolytic platelet plasma in the treatment of purulent-inflammatory diseases of the maxillofacial area: a clinical evaluation. Manoilo M.N., Darvin V.V.