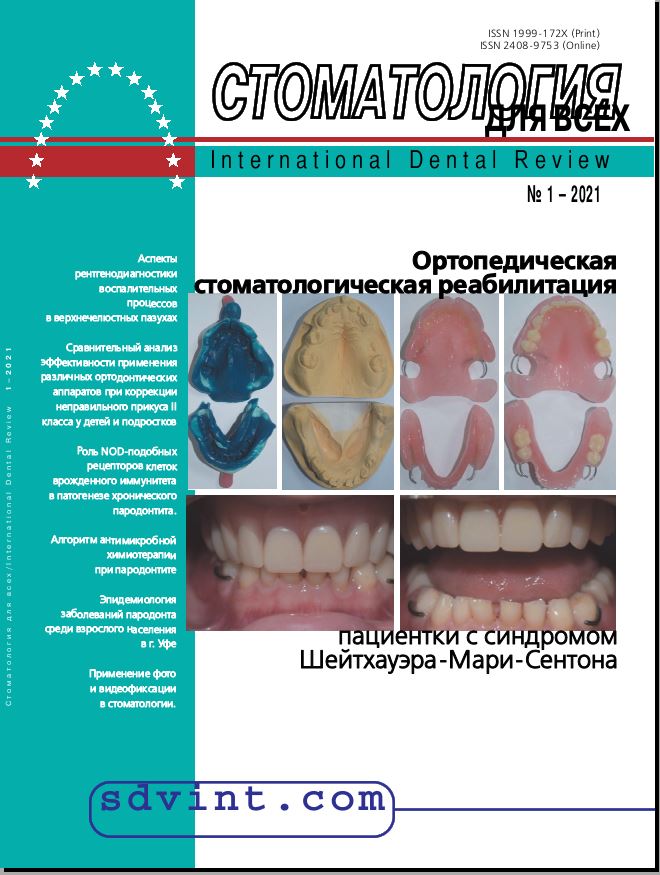 Contents, abstracts and references № 1 (94) 2021
---
POSSIBILITY OF DENTISTRY TODAY
X-ray in stomatology
4 Aspects of X-ray diagnostics of inflammatory processes in the maxillary sinuses. Arzhantsev A.P.
Orthodontics
12 Comparative analysis of the effectiveness of the use of various orthodontic appliances in the correction of malocclusion of the II class in children and adolescents. Pilipenko N.D., Maksyukov S.Yu.
Pediadontia
16 Multidisciplinary concept of diagnosis and treatment of children with cleft lip and palate at different age periods. Dudnik O.V., Mamedov Ad.A., Volkov Y.O., Parshikova S.A., Mazurina L.A., Аkhmetkhanov S.-M.A., Gorlova N.V., Guopei Ma.
Epidemiology
24 Epidemiology of periodontal diseases among the adult population in Ufa. Vasilieva N.A., Bulgakova A.I., Khafizova A.S., Vasiliev E.A.
Digital technologies in stomatology
28 Application of photo and video recording in dentistry. Review. Leontyeva E.Yu., Dmitrieva A.V., Kravchenko P.S., Leontyev G.S.
Periodontics
34 The role of NOD-like receptors of innate immune cells in the pathogenesis of chronic periodontitis. Literature review. Grudyanov A.I., Fomenko E.V., Kalyuzhin O.V.
40 Antimicrobial chemotherapy algorithm for periodontitis. Ushakov R.V., Tsarev V.N., Nuruev N.N.
Anesthesia in dentistry
45 The most common complications of local anesthesia in pregnant women in dental practice. Poliakova K.S., Kovalev N.A., Lavrov N.V.
Prosthetic dentistry
50 A clinical case of orthopaedic dental rehabilitation of a patient with Scheuthauer-Marie-Sainton syndrome. Galonsky V.G., Tarasova N.V., Surdo E.S., Gradoboev A.V.
HISTORY, CULTURE, ETHICS
58 Outstanding doer of Russian dentistry Zakhar Borisovich Piryatinsky. Iordanishvili A.K.
EVENTS
63 All-Russian Dental Forum 2021