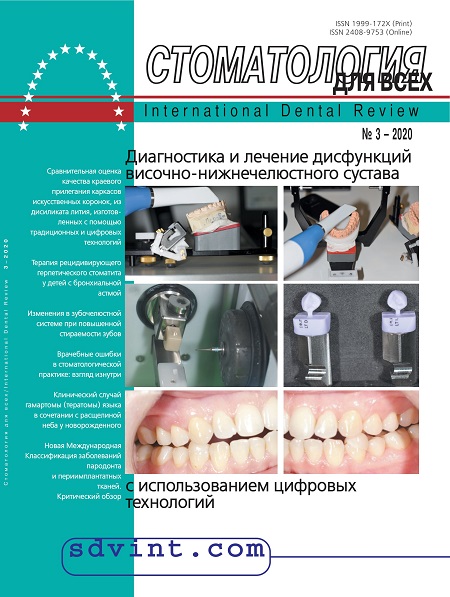 Contents, abstracts and references № 3 (92) 2020
---
POSSIBILITY OF DENTISTRY TODAY
Prosthetic dentistry
4 Comparative assessment of the quality of the marginal fit of lithium disilicate crownworks made by traditional and digital technologies. Zhulev E.N., Vokulova Yu A.
10 Experience in the use of means for fixing prostheses in patients with type 2 diabetes mellitus in the orthopedic treatment of partial absence of teeth. Shevkunova N.A.
16 Occlusion and retrusional stability in dental orthopedic rehabilitation of patients with symptoms of temporomandibular disorder using the interdisciplinary approach. Dzalaeva F.K., Chikunov S.O., Utyuzh A.S., Mikhailova M.V., Yumashev A.V.
Pediadontia
22 Therapy of recurrent herpetic stomatitis in childrens with bronchial asthma. Kuznetsova O.Yu., Ziyatdinova A.I., Misbakhov A.A., Salikhov N.R., Malanicheva T.G.

Dental implantology
26 Application of a combination of the resorbabl collagen membrane and the demineralized bone material in the technique of immediate dental implantation in conditions of a defect in the outer wall of the socket. Stomatov D.V., Stomatov A.V., Efimov Yu.V., Avanesyan N.A., Tachukova E.P., Nizhadasl S.M.
Conservative dentistry
30 Changes in the dentition with increased tooth abrasion. Stepanov D.A., Leibenko V.S., Stepanov E.A., Koretskaya E.A., Zyulkina L.A.
 Psychological aspects in stomatology
36 Medical mistakes in the dental practice: a view from the inside. Vasilyeva E.Y., Gorbatova L.N., Tomilova M.I.
Maxillofacial surgery
42 A clinical case of hamartoma (teratoma) of the tongue in combination with a cleft palate in a newborn. Volkov Yu.O., Mamedov Ad.A., Makarova L.M., Tukabaev G.P., Ryzhov E.A., Tkachenko B.A.
Periodontics
46 The Classification of periodontal and peri-implant diseases and conditions — 2018. Advantages and disadvantages. Part 1. Grudyanov A.I., Fomenko E.V.
52 Features of periodontal diseases in patients with obstructive sleep apnea. Budina T.V., Margaryan E.G., Ovsienko A.G.
Digital technologies in stomatology
56 Diagnostics and treatment of temporomandibular joint dysfunctions using digital technologies. Kosyreva T.F., Tuturov N.S., Kadbekh Imad, Lebedev V.G., Donskov D.V., Chkhikvadze T.V.
Rules for authors
More